Welcome!
Since 1918, we have worked to bring the right promotional products to you, our customers! As the oldest distributor of promotional products in Atlanta, and one of the industry leaders, we have strived to provide great customer service and the ingenuity that your company is looking for.
Featured Item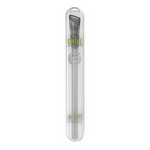 Chill™ Cooling Pour Spout (Clear/Gray)
Cool, pour and preserve with the Chill. Just pour the first glass, insert the cooling pour spout and enjoy perfectly chilled wine! After just two hours in the freezer, your Chill is ready to do the ha...