Welcome!
Since 1918, we have worked to bring the right promotional products to you, our customers! As the oldest distributor of promotional products in Atlanta, and one of the industry leaders, we have strived to provide great customer service and the ingenuity that your company is looking for.
Featured Item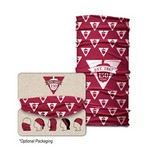 Custom Seamless Multifunction Tube
Random Samples Not Available. Contact Your Rep For Virtual Samples. Use As Scarf, Neck Warmer, Face Mask, Eye Mask, Head Band, Beanie, Hair Band, Hair Scarf, Scrunchie, Wrist Band, Etc.... Seamless, T...