Welcome!
Since 1918, we have worked to bring the right promotional products to you, our customers! As the oldest distributor of promotional products in Atlanta, and one of the industry leaders, we have strived to provide great customer service and the ingenuity that your company is looking for.
Featured Item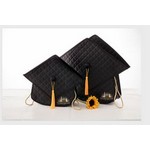 The Quilted Grad Bag - 13"x15"
Luxury Quilted Graduation Bag. The Grad Bag is a magnificent bag option for a school function event,college party celebration and educational fundraiser projects! It is the real bag with the real genu...